Ketemu angka 3 lagi di kalender, maka saatnya So3 :D Sejujurnya, untuk meme ini ada kalanya saya sudah membuat postingannya jauh sebelum jadwalnya. Karena kalau saya teringat suatu adegan, lebih baik saya tulis dulu sebelum lupa.
"At nine o'clock every morning you will read aloud one
half-hour to me. Before that you will use the time to put this room in
order. Wednesday and Saturday forenoons, after half-past nine, you will
spend with Nancy in the kitchen, learning to cook. Other mornings you
will sew with me. That will leave the afternoons for your music. I
shall, of course, procure a teacher at once for you," she finished
decisively, as she arose from her chair.
Pollyanna cried out in dismay.
"

Oh, but Aunt Polly, Aunt Polly, you haven't left me any time at all just to--to live."
"To live, child! What do you mean? As if you weren't living all the

time!"
"Oh, of course I'd be BREATHING all the time I was doing those things,

Aunt Polly, but I wouldn't be living. You breathe all the time you're asleep, but you aren't living. I mean living--doing the things you want to do: playing outdoors, reading (to myself, of course), climbing hills, talking to Mr. Tom in the garden, and Nancy, and finding out all about

the houses and the people and everything everywhere all through the

perfectly lovely streets I came through yesterday. That's what I call living, Aunt Polly.

Just breathing isn't living!"
Hehehehe, adegan di atas agak lucu. Oke, intinya Pollyanna nggak mau hidup hanya sekedar rutinitas dan jadwal. Pollyanna tetap harus punya waktu untuk senang-senang dalam menjalani kehidupan, kalau hanya bernafas dan rutinitas, namanya bukan hidup.
Saya ingat dulu ada teman sekelas saya waktu SMU sampai curhat ke wali kelas kalau dia pusing sama mamanya karena terlalu banyak disuruh les ini dan itu. Senin les matematika-fisika-kimia (mafia), Selasa les piano, Rabu les bahasa Inggris, trus Kamis les mafia lagi, Jumat les piano, dan Sabtu les bahasa Inggris dan tambahan les mafia kalau ada ujian.
Mengapa teman saya sampai curhat ke wali kelas? Karena wali kelas panggil teman saya yang nilai-nilai ulangan hariannya menurun. Rupanya nilai-nilai ulangan teman saya turun karena keteteran dengan semua kegiatan les yang harus dijalanin olehnya tapi takut bilang langsung ke mamanya. Maksud mamanya sih baik tapi masalahnya apakah efektif dan efisien dalam pelaksanaannya? Lha malah ngalor ngidul cerita masa SMU, kebiasaan jelek saya. Intinya hidup jangan hanya karena rutinitas, lakukan kegiatan yang menyenangkan hati juga.
Merasa ada adegan yang berkesan saat membaca buku? Ayo
share
di Scene on 3 juga :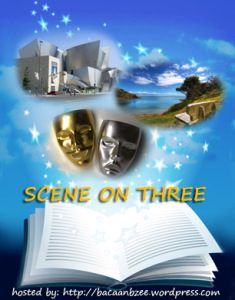 Tuliskan suatu adegan atau deskripsi pemandangan/manusia/situasi/kota dan sebagainya ke dalam suatu post.
Jelaskan mengapa adegan atau deskripsi itu menarik, menurut versi kalian masing-masing.
Jangan lupa cantumkan button Scene on Three di dalam post dengan link menuju blog Bacaan B.Zee.
Masukkan link post kalian ke link tools yang ada di bawah post Bacaan B.Zee, sekalian saling mengunjungi sesama peserta

Scene on Three

.
Meme ini diadakan setiap tanggal yang mengandung angka tiga, sesuai dengan ketersediaan tanggal di bulan tersebut (tanggal 3, 13, 23, 30, dan 31).
Please click
MR LINKY
and add your link :))