Perhatian-perhatian, blog
Kilas Buku
sedang mengadakan giveaway, syarat-syaratnya silakan cek langsung di link yang baru saya tuliskan atau silakan klik gambar di bawah ini.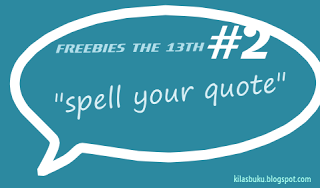 Saya langsung saja bahas quote yang saya suka, yaitu :
"I've discovered the true secret of happiness, Daddy, and that is to live in the now. Not to be for ever regretting the past, or anticipating the future; but to get the most that you can out of this very instant...I'm going to enjoy every second, and I'm going to know I'm enjoying it while I'm enjoying it. "
Quote diambil dari buku Daddy Long-Legs, review
klik sini
Mengapa saya pilih quote itu? karena sejujurnya saya saat ini sedang merasa kehilangan pegangan hidup. Saya selalu berpikir bagaimana caranya agar bisa bahagia? Buku-buku motivasi yang ada hanya mengajarkan cara untuk sukses tapi jarang yang mengajarkan cara untuk bahagia tanpa galau, tanpa depresi. Tapi sebenarnya apa sih arti bahagia itu? Setiap orang punya definisi berbeda soal bahagia. Ada yang beranggapan bahagia itu berarti hidup serba berkecukupan, berlimpah materi dan uang. Ada pula bahagia berarti sukses dalam karirnya. Ada pula bahagia karena akhirnya bisa mempunyai pasangan dan memulai hidup berkeluarga. Ada pula bahagia karena punya banyak teman. Ada pula bahagia karena setiap goal atau tujuan hidupnya akhirnya tercapai.

Tapi bagaimana kalau nggak ada semua itu. Saya merasa terkadang saya masih menyesali keputusan-keputusan masa lalu yang saya ambil dan saya selalu stress memikirkan masa depan yang tak pasti, akibatnya saya tidak menikmati kehidupan saat ini. Saya rasa (opini) bahagia itu adalah saat kita bisa bangun tidur setiap pagi dengan tubuh sehat. Masalah dalam kehidupan pasti ada, dan itu tidak bisa kita hindari tapi bukan berarti tidak ada solusi. Hanya bagaimana sikap kita dalam menghadapi masalah itu. Bagi saya bahagia erat kaitannya dengan harapan.

Itulah analisa saya soal arti bahagia, tapi maaf yah kalau analisanya kesannya malah bikin mikir dan bukan bahagia.

Bagi yang mau ikutan, ayo cepat, mumpung masih ada waktu, giveaway dibuka hingga tanggal 10 Oktober 2013.