Rasanya lama sekali saya tidak bersinggungan dengan genre fantasi (padahal cuma sebulan). Bacaan saya bulan Juli kemarin boleh dibilang bebas dari fantasi. Oleh karenanya saya merasa kangen untuk kembali membaca genre favorit saya tersebut. Karena itu saya memutuskan bulan Agustus ini tema baca saya adalah fantasi dan khususnya fantasi lokal, tapi saya tidak ingin membaca cerita fantasi tebal dulu, mengingat tema baca saya ulan September bakal banyak fantasi, maka itu saya putuskan untuk membaca anthology alias kumcer atau kumpulan cerita pendek. Tapi sebelum melihat buku-buku apa saja yang akan saya baca untuk Agustus ini, coba cek bacaan saya bulan Juli.
Sebelumnya saya pernah post
di sini
mengenai buku-buku yang saya baca untuk bulan Juli, yaitu :
The Tiger Rising by Kate DiCamillo
Rumah Cermin (Ulysses Moore #3)
Pippi si Kaus Panjang by Astrid Lindgren
The Painted Veil by W. Somerset Maugham
Nobody's Boy by Hector Malot
Dari 5 buku tersebut hanya 3 yang saya lunasi, 2 buku lagi saya masih hutang yaitu Rumah Cermin dan Pippi. Sebenarnya ada 1 buku lagi di luar list di atas yang saya baca yaitu buku dari buntelan
Mas Dion
, reviewnya bisa lihat
di sini
. Ingatkan saya untuk membayar hutang 2 buku ini :) Jadi buku apa yang akan saya baca untuk Agustus :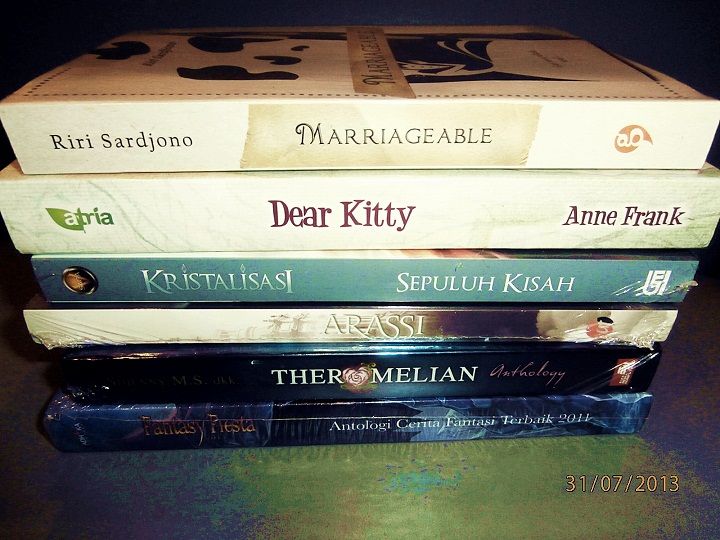 Marriageable by Riri Sardjono
Dear Kitty (Diary of Anne Frank) by Anne Frank
Kristalisasi (Anthology Vandaria Saga)
Arassi
Ther Melian Anthology
Fantasy Fiesta 2011
Dua buku paling atas yaitu Marriageable dan Diary of Anne Frank (saya merasa tidak nyaman menyebutnya Dear Kitty) adalah tema baca bareng BBI untuk bulan Agustus yaitu sastra Indonesia atau buku yang ditulis oleh penulis Indonesia dan buku bertema perang.
Yah moga-moga dengan banyaknya libur, semua buku dapat saya tuntaskan termasuk hutangan bulan kemaren. See? I'm not always buy and
nimbun.